Popularni glumac Andrija Milošević na posljednjem letu avionom imao je čast da sjedi pored legendarne pjevačice Lepe Brene. Njih dvoje su to obilježili i fotograifijom, a glumac nije odolio da fotografiju ne objavi na društvenim mrežama.
Međutim, za to je imao još jedan povod. Ono što mu je pjevačica rekla posebno ga je motivisalo.
"Pevam 'Čačak' već 42 godine. Znaš li zašto ga pevam? Kada krenu oni prvi ritmovi i vidim sreću u očima publike, ja pevam da njih usrećim" – Brena. Pomislim, isto tako i ja", napisao je u svom duhovitom stilu glumac.
Njegovi pratioci razniježili su se na riječi dviju velikih zvijezda koje pokazuju njihovu ljubav prema obožavateljima, a drugi su se od srca nasmijali jer je Andrija pjevačici za fotografiju "ukrao" naočale.
"Dve legende", "Slika dana", "Koliko ste samo osmeha vas dvoje doneli", pisali su pratioci u komentarima.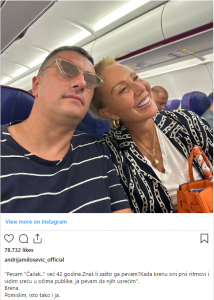 (Kurir.rs)